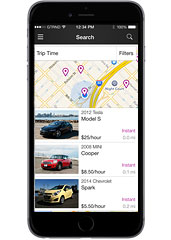 Your car has a lot going for it.
Its tires are inflated. Its headlights are bright. When you turn the key, it starts.
A thing like that probably shouldn't sit idle most of the day.
Speaking of...
Here's
Getaround
, a mobile app from the West Coast that makes the whole peer-to-peer-car-sharing thing happen, now live in DC.
First thing you do: get that to-go container of pot stickers out of your back seat. Next thing you do: sign up to rent out your car, then let them take nice photos of it and install their keyless entry system. Finally, just set a calendar that lets potential renters know when your car is free to rent and set a price for your ride.
Of course, this thing can work the other way as well. Just call up the app, and search for cars near you, or certain kinds of cars. Like a Tesla. Or... a Prius.
And just to butter you up a bit more, they're throwing a launch party next Thursday at Union Market. RSVP and they'll give you $50 in credit.
Spend it on wax and those giant sponges.