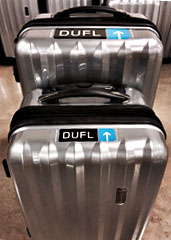 Tap your heels three times and repeat after us:
"There's no place like anywhere-but-baggage-claim."
Actually, that probably won't do anything.
But
Dufl
will. It's a new service that basically manages a virtual closet for you and delivers whatever, wherever. It's online now.
Right, you've got questions. Fair enough:
What's happening right now?
May. Finally. Also, these guys will send you a suitcase to fill with clothes that you wear on the road. Fill that. Then they'll come get it and store your stuff in a state-of-the-art garment-housing facility (so... a warehouse) until you're ready for it.
Yay. How do I remember what's in there?
They'll photograph everything and create a gallery.
So that's the virtual closet part?
That's the one, yeah. You'll pull up the
corresponding app
, choose which clothes you want, enter your trip info and that's sort of... it. Your bag will be waiting at your hotel.
What about shipping it back?
Schedule a pickup, put a label on it and leave it at the hotel desk. They'll come grab it and return it to storage.
This is the best thing to happen to travel since tiny peanut baggies.
Not a question. But the word "baggies" gets a pass.