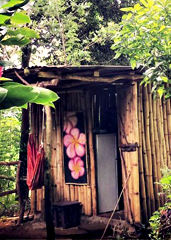 Well, the weed-friendly version of Airbnb exists.
That's right. It's online now, and the founders couldn't help themselves, apparently—they went ahead and called it
Bud and Breakfast
.
So you can now resume living life with that knowledge.
Oh... you have questions. Sure.
Q: So, a pot-friendly Airbnb. How does that even happen?
A: It's a pretty similar interface to Airbnb—if you're interested, just visit the site, plug in your destination and dates, and scroll around a bunch of places with owners who are specifically okay with guests who want to, well, you know.
Q: Cool. So it's all legal?
A: The properties are all in places where marijuana is legalized for medical/recreational use.
Q: Is there a bamboo bungalow with a hammock in the Caribbean?
A: Funny you asked. There is.
Q: And what other destinations are there?
A: Spots in Alaska, California, Washington and, yeah, Colorado. Internationally, they've got listings in Jamaica and Uruguay.
Q: Anything new coming up?
A: Holland should be joining in the next couple of weeks.
Q: Well, that's utterly out of left field.
A: Your sarcasm is noted and appreciated.