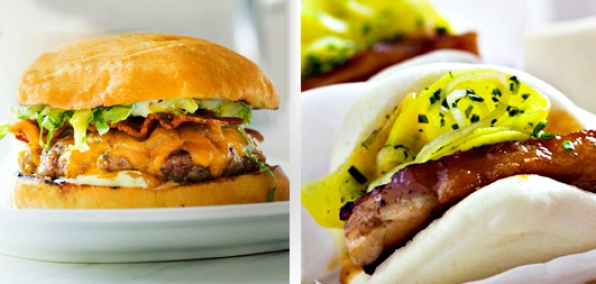 1. "And that was the big news on Marlowe Burger. Back to you, Steve."

We might say that if we had a lunch report. We don't.

Moving on, you're familiar with Marlowe. Well, the original SoMa location is back—now as a pop-up, counter-ordering type of deal. It's slated to open April 20.

You'll come grab a seat at the counter overlooking Townsend and order the Marlowe burger, or sit at the low communal table and try an Egg Roll (spoiler alert: it involves deviled eggs and bacon).

And there's a cow-print-patterned wall, so you know they mean business.

2. Over in the TL, The Chairman is an actual restaurant. Without wheels.

The space is reminiscent of its mobile counterpart: it's got the big panda and a significant stockpile of bao, and it also soft-opens Monday.

You'll have a seat on an old oil can with a padded top (or on one of the less aggressive stools), and order a pork belly bao. And as you're picking up that meat-filled bun, thinking how you are going to balance your Marlowe Burger lunches with your Chairman lunches, you could argue that this thing is kind of like a burger. Kind of.

Massive day for buns.