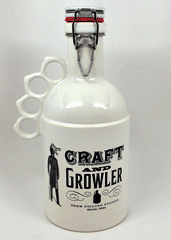 There's a lot of bad, bad stuff on the Internet.
But this just might make up for all of it.
Behold the
Craft and Growler Store
. This online funhouse of growlers, glasses and other beer-related paraphernalia from the same-named Fair Park bar is now live for your enjoyment.
You know the bar. Great bar. Lots of beer. Real dedication to Texas drafts and sending you home with to-go jugs of those drafts.
Now imagine that same undertaking applied to the Internet. It's noble work.
So visit the site and start clicking around. You'll find several dozen growlers for harboring your favorite beer, plus a stockpile of gift-worthy trappings. These ought to get you started:
—A growler with a versatile handle that doubles as brass knuckles because... you just never know.
—A picnic-friendly beer vessel that looks like an innocent water bottle.
—A growler that's not really a growler at all but actually a pliable, watertight pouch.
—Growler holsters with shoulder straps for carrying your beer like a messenger bag.
—Bars of beer soap for smelling a bit more like hops than usual.
—Homebrew kits for riding out the apocalypse.
—Dog treats made from malted barley.
In case things get really desperate.