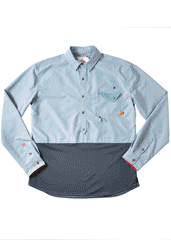 Imagine yourself knee-deep in a babbling brook.
Roasting something gamey over a fire pit.
Catching fish with your bare hands.
Saying the word "shut-eye."
Point is: camping. Let's talk about it.
Specifically, about
Western Rise
, a new site full of Rocky Mountain–inspired gear that you're going to pick something from and then wear on your next camping trip, online now.
There are certain things the good people of Colorado just...
get
: bonfires. Hiking. Fly-fishing. Herb-assisted relaxation. Water-and-sun-resistant apparel built for comfortably participating in any or all of those pastimes.
And so with that in mind, allow us to present you with your new camping checklist:
—An anorak jacket with a bottom cinch for river-wading and a front pocket for... hand-warming.
—Waterproof pants with quick-draining pockets and a knife wedge. Shorts, also with a knife wedge.
—T-shirts and henleys. They're in your camping contract, so thankfully they're here, too.
—A water-resistant popover with a hidden pocket and cuffs lined with a sunglass-cleaning fabric.
—Marshmallows.
What. It's still a checklist.