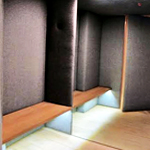 DRESSED DOWN
The Dressing Rooms at A.P.C. NoHo
The situation: An extremely padded, enclosed den of privacy that is seemingly soundproof.
Risks: "How are those New Standards working out for you? Um..."
Degree of difficulty: Low. No one's really bothering you in there. Just throw your accomplice a "Honey, I need your opinion," and you're in the clear.