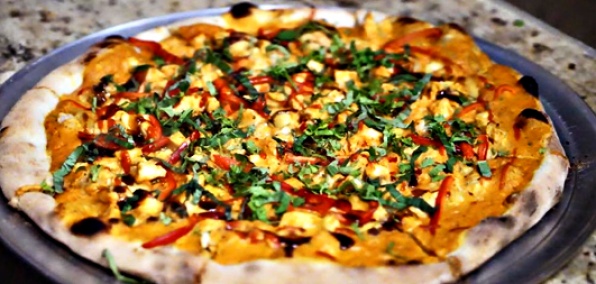 Let's play a game.
You name two things you'd never find on pizza.
1. Corned beef.
2. Sauerkraut.
And we'll tell you that you're wrong.
Keep an open mind for
ZaLat
, the crazy new pizza lab from the guy behind DaLat, soft-open now on Fitzhugh for takeout and delivery.
So, this place: they're not big on tables and chairs and aesthetics. But that's okay, because you're just swinging through to collect your dinner. Or you're just calling here for someone to bring that dinner to your door.
Here's the menu
. And here's a sample of what you'll be eating.
—A Reuben pizza with corned beef, sauerkraut, mozzarella, swiss, chives and Thousand Island dressing.
—A Thai coconut chicken pizza with grilled chicken, spicy coconut cream sauce, red bell peppers and basil.
—Other, still-in-the-works pies channeling everything from pho to al pastor to Mexican street corn.
It's wild stuff. And you know what else: they're currently serving until midnight, but they might go until 2am or later if demand warrants it.
And if you want an adult beverage, you can walk your pizza over to DaLat to hang out at their bar.
Walks are always better with pizza.