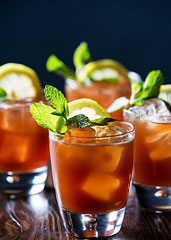 A good bartender should understand you. Listen to you.  Be there for you.
Also: send Old Fashioneds to your house.
Yep. Good bartenders do that now...
Thank
Cocktail Courier
, a new service that's going to sharpen your home bar game like it's never been sharpened before, delivering now.
Imagine if someone took serious drink people like the Betty's Peter Vestinos or the Drifter's Liz Pearce, put them inside a little box, brought them to your place, rang your doorbell and left. That's this. Except... it's not as strange as that just sounded.
We'll try again...
You're having a few friends over for drinks tomorrow night. You're thinking about whipping up something like that
Botanical Beach
from Nico Osteria that you love so much.
Well, you could go shop for all the ingredients, guess the measurements and start whipping up a batch of toasted coconut syrup.
Or: get online and start choosing signature recipes from top barkeeps in Chicago. The next day, you'll receive the alcohol, the shiny ripe fruit, the squeeze bottles of flavored syrup and the instructions on the proper way to muddle and swizzle.
Sounds like the "Or's" have it.