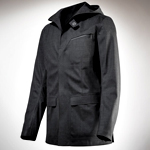 THE RAIN BLAZER
Spring Rain. Yep, Still a Thing.
What: A waterproof hooded blazer from Mission Workshop that's got a nice tailored look to it.
Why: Your suit won't feel out of place under this thing. Neither will your jeans. Neither will a country ham in case you don't want your country ham to get wet. Sorry. Won't happen again.