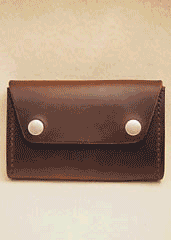 Atlanta's current weather forecast: unreliable.
Atlanta's current handmade leather goods forecast: the opposite of that.
We were all thinking it...
But now we're all thinking about
NeverBeenBetterCo
, a new Atlanta-based leathersmith here to smith you all sorts of handcrafted items of necessity, now online.
Let's start with the man behind the squished-together company name. He's Nate. He's normal. And one day, normal Nate thought to himself, "Atlantans need to simplify themselves with clean, well-made, well-functioning items. Hell, I guess I'll make some for them." Something like that.
Anyway, he knows what he's doing. The designs are sharp and there's lots of Horween Chromexcel leather involved, especially in the wallets. In other words, they'll laugh at any scrape, scratch and imprint you try to throw at them.
He's also got card holders and key fobs, and laptop cases, bags and document folios will be out soon. What's that? Don't like what you see? Want something a little different? He'll take your custom orders all day long.
Or until there are no more cows.