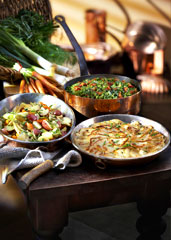 You:
"Cooked for any royalty lately?"
Him:
"Why, yes."
And thus concludes your personal chef interviews.
Sit back and do almost nothing for
Eating Royally
, a handy new service where a personal chef with Buckingham Palace ties will cook and deliver all your meals, now available.
Your chef's name is Darren McGrady, and he cooked for the royal family for 15 years. He's also fed a few US presidents, so let's all agree that he knows his way around a dinner plate. And after that, let's badger him for state secrets.
Moving on, the whole point here is that Chef McGrady will swing by your place for a one-on-one consultation where you can discuss your food-related likes and dislikes. You'll decide on a menu and how many meals you want per week. Then he'll get to work shopping for groceries and cooking. He'll even deliver everything to you with heating instructions. So... that's easy. (
See the sample menu
.)
And if you're hosting an event, he'll do the cooking for that, too. Heck, he'll even join you on vacation to prepare your meals while you traipse about the world.
The sacrifices this guy makes...