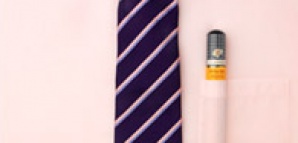 Following in the storied and grand tradition of multitasking accessories—such as the piano key necktie, the beer-dispensing helmet and the money belt—this week Thomas Pink bestows upon the world the latest in utility fashion: The Mogul.

The Mogul combines the best in shirt-making with the best in cigar-caddying to create, at long last, a dress shirt expressly designed to hold a cigar.

Part of Pink's Black Label collection, this shirt has a breast pocket that is split in two: one side is made for a cigar while the other is for a lighter or a cutter. To keep the shirt looking sharp sans cigar, the pocket is box-pleated so it lays flat when not in use.

It's available in pink or white and should be worn only by those who consider themselves experts at multitasking—

Like Bill Clinton.