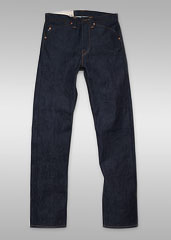 Okay, let's acknowledge that got completely out of hand, and then move on.
We're not talking about your weekend. Unless we are.
We're talking about denim.
You don't need 1,000 styles. You don't need 1,500 rivet options. And you definitely don't need creative patchwork.
Just... a pair of good jeans, please.
Consider
Jack/Knife Outfitters
. They've changed. And they're now selling one style of their heavy-duty, hand-stitched denim jeans online and at pop-ups around SF.
Before this, these guys were strictly bespoke. But on the off chance you need a pair of jeans in less than two months, here you go: they're now just focusing on one fit: the Western Pocket Jean. They're not skinny. Or straight. Or bootcut. They just fit well, and go with everything. Okay, they also have lockstitch seaming and inverted pockets.
Just tell them your size and they'll ship your pair straight to your door from their SF-based factory. There. That's it.
Unless... well, you could also meet the Jack/Knife team at next weekend's Book & Job pop-up, or next month at Voyager.
Oh, and... they've also teamed up with some LA-based leather whisperers to craft you made-to-order satchels and wallets.
Okay. That's it.
Really.