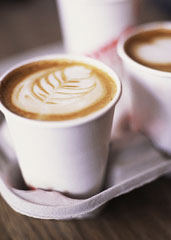 Maybe bingeing on
Serial
episodes last night is finally catching up with you today.
Maybe you've got a major caffeine addiction you'd rather we didn't dwell on.
Point is, you could probably use a cup of hot coffee right now.
Look, here's a guy on a bike. With your coffee.
It's called
Fetch Coffee
, and it's a new service, in beta today in most of downtown, that aims to, well, fetch you a coffee.
It's beautifully simple. You go to their site, enter your address and what kind of coffee/latte/mocha you'd like. In 20 to 30 minutes, there it is at your door. Or your office door. Or wherever. You pay an extra three bucks for the service.
We know what you're thinking. But no, it won't get cold. They put the whole cup in a big thermos. And it won't spill because they use a bunch of padding, too. Smart.
For now, they're getting your joe from Starbucks. They may expand from there as they ramp up. Soon, they'll also start letting you schedule regular coffee deliveries every day for only a buck a pop.
Even iced coffee. If you're weird.