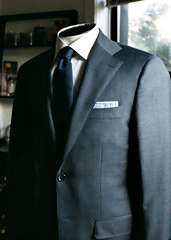 Your hat, your gloves, your down jacket, your thermal underwear, your battery-operated socks.
Yes, your "functional" clothes are basking in all their glory right now.
Let them enjoy themselves.
Just know that
BLVDier
, a new custom suitery from a Suitsupply alum, will be taking over for those days when form beats the hell out of function. It's taking appointments online now and hoping to open Friday in the West Loop.
This Suitsupply vet. He really knows his way around some Loro Piana swatches, twill worsted wool, fine cashmere and trouser cuffs cut so sharp, they need to be registered in certain jurisdictions.
Once you step inside his new digs: all cobalt blue, steel trim, walnut finishes and graphite frames holding suit catalog images from 1915. Basically, it's more art gallery than haberdashery. Though, someone will surely still offer you fine Japanese glassware filled with good whiskey. That's just polite.
Come. Hang out. Think about heading to dinner at Publican or Girl & the Goat afterward. Most importantly, let the tape measure have its way with you. Because four to six weeks later, you'll be rewarded with a suit that's made to your exacting specifications.
Your table should be ready by then.