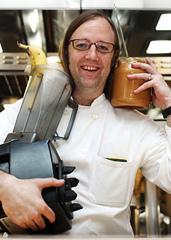 Sometimes we dream. We dream about things that should be, but aren't. And today, we want to share those wistful aspirations with you. Here's how we see 2015 playing out, best-case scenario. It's
The
2015 Wish List.
Mid-January:
Frustrated by an inability to enjoy outdoor rooftop-imbibing through the winter months, an enterprising NYC programmer develops
High Water
, an app providing on-demand portable hot-tub delivery to any rooftop in New York.
Arbor Day:
Spa Castle Manhattan expands its already-impressive range of services to include an eight-handed massage actually performed by Mohini, eight-armed enchantress and female representation of the Hindu god Vishnu.
July 7:
Hangover IV services, once hailed as savior of beverage-enjoyers everywhere, go bust when Wylie Dufresne's landmark breakthrough in hangover-less alcohol is revealed.
Fashion Week:
The after-party scene is dominated by
Down&Up
, a west Chelsea club with a dance floor made of luminescent spikes and a ceiling that's flat. Also: there is no gravity.
Thanksgiving Day:
The Torrisi team soft-opens
Marroquin
, a downtown hot spot doing refined twists on the cuisine of Civil War–era Guatemala. Only those with the initials X.V. are admitted.
Okay, that's probably the most likely one.