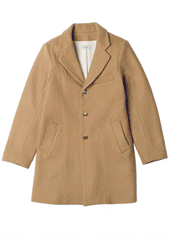 Time to talk about sheep.
Because here comes
Aimé Le
...
Wool. Wool would've been better than sheep right there.
...
Because here comes
Aimé Leon Dore
, an NYC-based outfitter that just launched their third collection full of cozy and frequently woolen outer things. Oh, and they have a webshop now for the first time ever, so that part's important.
The whole collection is limited to four colors: navy, heather gray, camel or cream. With the exception of that red flannel, of course. Can't not have a red flannel.
Otherwise, as promised, you've got a lot of things happening with Italian wool.
There's a coat with gold buttons and a thermal lining that you could wear holiday shopping. A scarf that you could definitely wear with that coat. And, let's see, a wool baseball cap with an "A" on it that you could wear on your head and walk around in.
We'll assume the "A" stands for effort.