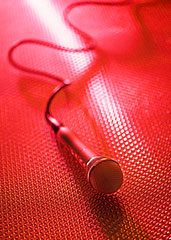 Karaoke can be a lot of things:
Fun.
Embarrassing.
Awkward.
Violent.
Violent?
Violent.
But that last one only happens at
Full Contact Karaoke
, a one-night-only event designed to change your perception about warbling to a prerecorded soundtrack in public, now accepting team sign-ups for December 2.
See, this is a fundraiser for the Windy City Rollers, Chicago's all-female roller derby league. But it's not just a spectator sport. You're doing this. You're going to form a team and have a very strange evening.
Teams will get on stage at Schubas and compete in a good old-fashioned singing contest. Accompanied, of course, by random acts of violence and mayhem. For instance...
Your team can buy little distractions to undermine your opponents. Distractions like shutting off the lyrics screen. Or making them wear blindfolds. Or shooting them with a marshmallow gun. Or forcing them to wear remote-controlled dog shock collars.
Should help with hitting the high notes in "I Will Always Love You."