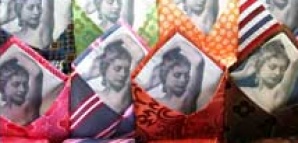 Usually ties get you in the mood for document reviews and board meetings more so than drinking, gambling and womanizing.

Maybe you've been wearing the wrong ties.

An offshore gem of a find, Australian-based Manfred ties are made for the man who "has made mistakes, is a bit of gambler and womanizer and has an air of mystery"—no doubt enhanced by the sporting of this tie, since they're not available in any stores in the US.

The handsome jacquard silk ties are painstakingly made in Italy (in very limited quantities) through a 40-step process in which they're hand-folded, hand-stitched and pressed. They're cut extra long to accommodate that double Windsor knot, but the kicker is the tipping—it features a nice classy nude of Celeste, Manfred's tragically lost love (unfortunately images of your ex are not available upon request).

Their signature Perseus paisleys are particularly inspiring for some good times, but there's a range of colors and patterns for you to choose from.

Yes—you can now blame your bad behavior on your tie.