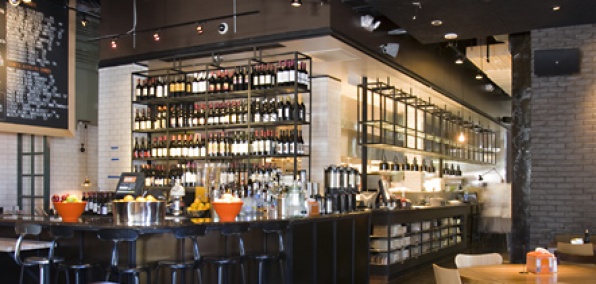 What do you want? You're not sure. But when do you want it? Now.

Introducing Main Street's lively new all-day spot for your coffee-and-newspaper needs…and your quick-sandwich-to-go needs…and your leisurely pizza-and-wine needs. La Grande Orange opens Monday.

Step up to the counter on the market side at 6:30 a.m., and you can order pastries, the Alice Waters–favored Mr. Espresso, Lemon Skinny Pancakes or Huevos Rancheros (griddled, not deep-fried). Come lunch, they've got grab-and-go sushi and salads and the famed Green Chili Burger.

And as the day shifts from afternoon to dusk, the waitstaff arrives and the California and Oregon wines begin to flow—all to an unapologetically loud and eclectic soundtrack, from Neko Case to zydeco to the Monkees. They've also got made-to-order pizzas like Roast Fennel and Fresno Chili or Asparagus and Roasted Corn to take home—though we hear if you want to eat one on the patio with your sangria, they can make that happen.

For dessert, they work with Carmela Ice Cream to concoct flavors like lavender or lemon-basil to pair with that night's selections. Although after your extended meal of pastries, pancakes, sushi, salad, burger, pizza and wine…

Never mind. You'll still have room.