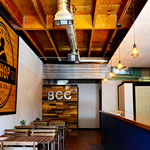 THE CIDER OPTION
Drinking Cider. Lots of Cider.
The Date: Swinging by Bishop Cider Co., grabbing a couple bar stools and proceeding to sample a flight of housemade ciders, including a peach-pecan number and something called Crackberry.
Risk: Literally none. Well, barring any grape allergies.
Reward: Drinking cider is a reward unto itself.