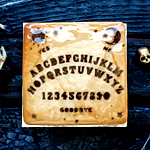 IT'S NOT REESE'S PIECES, IT'S...
<em>Cube Cakes</em> at Craftsman and Wolves
You require: Chocolate in your peanut butter.
You'll receive: A layer of IPA devil's food cake, with a crunch of cocoa and crispy pearls, under a creamy dark-chocolate ganache—and the whole thing is covered in a peanut butter/cocoa/blond-chocolate mousse. And a picture of a Ouija board.