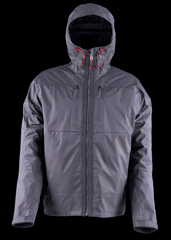 Layers, people.
It's time to start thinking about layers.
You can't very well man a late-fall bonfire or carve out a black diamond or make leaf angels without layers, can you?
Don't answer that.
Instead, proceed directly to
Mountain Standard
, a new Colorado-based outfitter with all manner of long-sleeve, fleece and insulated things just in time for the part where you get cold, now online.
These are just generally helpful and attractive items to have touching your body around this time of year.
They're slim-fitting and made out of either polyester or nylon for moisture-wicking and water-repelling, respectively. They also have pockets. Maybe that was a given.
Lightweight fleeces.
Hooded jackets.
This one insulated coat that's as warm as being wrapped in a bunch of scarves but is way thinner than that.
All there. So from here on out, feel free to conquer all your winter operations with the greatest of abandon. Brave snowstorms, hike icy cliffs, bike to work, build snow forts, search for the yeti, ride reindeer, pick snowball fights, eat sandwiches...
Guess you could probably do that last one whenever.