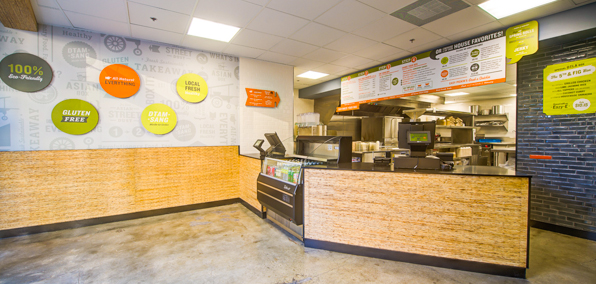 "One
Eazy-E
, please."
"With a side of jungle jerky and some Asian street dust."
Heads up that that's how you might order lunch in Downtown on Monday.
It'll be slightly less weird if you're at
Asian Box
, a casual new lunch spot with customizable Vietnamese rice and noodle bowls, opening Monday in Downtown. (
See the menu here
.)
Regrettably, your working-lunch time frame isn't always accommodating to multiple martinis. But you should be able to find a moment for lime-basil shrimp and housemade sriracha in a quick spot with a giant patio. It was the giant patio that sealed it.
Basically, you'll have them fill your bowl (which is actually a box, an Asian box) how you want it here. Jasmine rice. That shrimp or lemongrass pork. Vegetables are an option, sure, you might need some of those at some point. Curry tofu.
Street Dust
. (It's... spices.)
And no, no martinis here. But they do have an
Eazy-E
. That's mint tea with lemonade. So kind of like an Arnold Palmer.
And very dry.