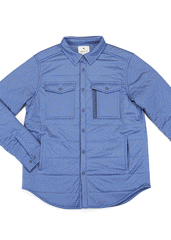 Listen, we all know it's getting cold.
And none of us are happy about it.
Wait a second. It seems... yes. This just in: we
are
happy about it.
Because
Snow Peak Apparel
, the fabled Japanese camping brand's debut into slim-fit snow pants, insulated pullovers and other things specifically engineered to keep you warm while you're eating marshmallows and strapping skis to your feet, is now online.
Here's the deal: until just a few days ago, these guys only made outdoor gear like camping chairs and tents and cookware. And now that's not the case. Now... other things.
Like a pair of insulated polyester pants for slope-hitting.
Like a red plaid flannel for chilly nights spent navigating the bonfire circuit.
Like a striped long-sleeve T-shirt for making the lodge look better than lodges normally look.
Like a wool sweatshirt for being snowed-in.
Like an insulated polyester skirt...
For gifting, probably.