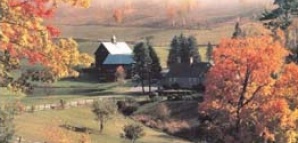 We love the city, but let's face it, we love leaving it even more. Hence Get Out of Dodge, which periodically hooks you up with the best weekend getaways just one tank of gas away. Get going...
You may own the city, but the city doesn't own you—when a gorgeous autumn weekend comes calling, we suggest you answer it with a road trip to the less-populated parts of Vermont (where the foliage is bright, the beds are warm and the locals are armed). You can have the open road and a happy woman at your side—all just a little off the beaten path.
Bed (and Breakfast) Her

Head to quaint Waitsfield, where the
Featherbed Inn
awaits, a sleepy bed and breakfast with featherbed mattresses so soft she might never want to get off. If she does, though, don't miss the 3-course breakfast cooked by innkeeper Tom and his wife, then head out to do what the locals do...
Day 1: Local Flavor
Check out the Mad River Green Farmer's Market in town, where they sell everything from Vermont cheddar to local crafts (Saturdays, 9am-1pm, until October 14).
Cheat on Aunt Jemima, and try a local maple syrup—and where better than at the Morse Farm Maple Sugarworks in Montpelier.
You ain't been in the country 'til you've picked some apples. Get her up on the ladder at Adams Apple Orchard and Farmin Williston, and enjoy the views...of the foliage (until mid-October).
Day 2: Country Air
Or...screw it all and just stay in those featherbeds.