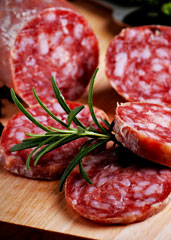 Your typical mail haul goes something like this:
—Bills.
—Car insurance ad.
—A $6 birthday check from your aunt.
And regrettably, none of that makes for a nice charcuterie board.
So it's a good thing
Meat Parlour
exists. It's a local outfit dedicated to salting and curing meats and then sending them straight to your door, and it's online now.
This comes to us from Adam Kovac. He's the executive chef for Bread Winners and the forthcoming Henry's Majestic. Fortunately, he's really into meat. Salting it. Curing it. Eating it. All the major undertakings. And over the past few years he's been perfecting recipes for the kinds of things that really spruce up snack time.
Porcini mushroom salami comes to mind. So does spicy beef jerky and whole slabs of pork belly cured with peppercorn, juniper berries, rosemary, bay leaf and red wine. (
See the menu here
.)
So before your next Cowboys watch party or some other occasion that would benefit from the addition of meat products (Thanksgiving, Tuesday, breakfast), check out the website. Peruse the wares, make a few clicks and there you go.
Better warn the mailman about dogs.