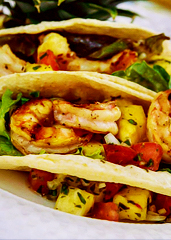 Next time you're looking at the flag of the Bahamas, turn to someone and say:
"The yellow stripe represents sand, the aquamarine represents the sea, and the triangle represents determination."
Then turn to someone else and say:
"Conch fritters, please."
You're next in line at
Island Chef Cafe
, a new Caribbean food truck with a couple native Bahamians slinging all manner of seafood in your general direction, rolling out Thursday.
Three chefs are on board here. One's from Nassau. One's from Grand Bahama. And one's from... Georgia. But all of them are cooking the types of things you might expect to find in some sort of heavily accented islander's kitchen. (
Here, check out the menu
.)
They'll be at the 5 Arts Fest in Little Five Points on Saturday. So go. Sit in on a drum circle. Paint on a collaborative canvas. Do whatever it is you do at these things. But then, look for the truck with a flag and an ocean scene embossed on it.
You'll get the conch fritters with Bahamian dipping sauce, obviously. And the lobster tacos battered in Kalik (the beer of the Bahamas). And to drink, a can of Junkanoo Juice Medley.
Mostly because when else can you say Junkanoo...