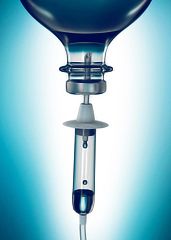 Curing a hangover is simple.
Step 1:
Get lots of rest.
Step 2:
Have someone come to your place with an IV full of fluids.
Step 3:
Come to the realization that Step 1 is optional now.
Because here comes
The I.V. Doc
, your new ally in home hangover relief, slated to hit town on Friday.
Lollapalooza weekend can get pretty hot. And hey, you may even want to enjoy an adult refreshment or two. So let's go ahead and chalk this one up to good timing, shall we.
Go to the site and sign up for a variety of 30-minute hydration services with names like Cleanse, Detox and Revive. The latter being particularly useful for "deathbed relief," according to the good doctors. They're just saying, we guess.
Once you've made the appropriate selection, a nurse will be dispatched to your place with fluids, an IV bag and a smile. Before you know it, you'll be back on your feet and ready to take on the beast known as Sunday brunch.
It's all part of the procedure.