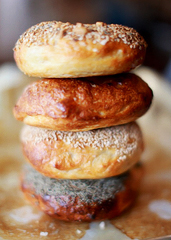 Some amazing news today. "Weird Al" Yankovic's new album is actually pretty good.
Wait, no, that's not it.
You can now get bagels, gelato and cupcakes from a boat. On the water.
Yes, that's it.
Watch the wake for
Nauti Foods
, the Potomac River's first food boat, getting started for the first time this afternoon.
What you'll want to do: head to the boathouse. Then: rent a kayak or a canoe. Then: paddle upstream a bit to find this old pontoon boat with a teak deck, a grill and some freezers. Then: go to it.
On the menu: some expected things like hot dogs, chips and ice cream sandwiches. But they're also curating a rotating array of stuff from around town, like gelato pops from Dolcezza, pastries from Sticky Fingers, bagels from Bullfrog Bagels and juices from Goûter. Ask for a bag, and it'll come with a carabiner to attach to your kayak or life vest.
And in the works: stand-up paddleboard delivery service, should you have your own motorboat in the water.
Always tip your stand-up paddleboard delivery guy.