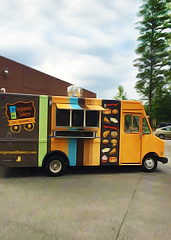 To the person who's been behind the wheel at Highland Bakery all these years: outstanding work. Keep it up.
Oh, and regarding that thing where you literally just put someone behind the wheel...
Clap
.
Clap
.
Clap
.
Keep the slow clap going for
Highland Bakery on Wheels
, the food truck version of the place that needs no introduction, now rolling.
Everything's really straightforward here. There's that name. And those pictures of BLTs, muffins and sunny-side ups plastered by the truck's window. There's even a whiteboard explaining everything just to avoid any confusion.
Their first journey through the Howell Mill market is this weekend, so that's pretty great for your Sunday. Imagine. You wake up immediately needing the very specific combination of fried chicken with jalapeño-cheddar sauce. You go to them. There's no wait for a table because there are no tables. Life is worth living again.
And you should probably start
following them
. They're really getting around. Underground Atlanta. Alpharetta. Near a historic brick warehouse that once housed the Atlanta Buggy Company.
Too bad horse-drawn food trucks never took off.