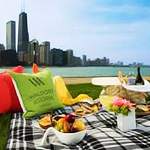 FOR THE "LITTLE HELP HERE" PICNICKER
The Basket: Sandwiches, cheese, stemware, a Waldorf Astoria picnic blanket and, naturally, a butler to carry it all for you.
The Rendezvous Point: Anywhere you damn well please. Your picnic butler will already have the whole thing laid out, including the champagne. You figured out this wasn't a game long ago.