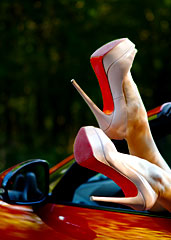 Some things are just better when you're in a car.
Like, drive-through fries. Lip-synching the entire Lil Jon repertoire.
And watching a 30-by-20-foot screen full of Jeff Bridges's face.
So slide your vehicle into park at
Blue Starlite Coconut Grove
, your new drive-in destination for old-school flicks and sliders delivered via carhop, now selling tickets for its June 23 debut in the Grove.
Yep, these are the same guys who set up shop in Wynwood last year. But apparently, those 20 parking spots were starting to feel a bit... stifling. So they've packed up their 1950s Chevy truck projector and taken over the Coconut Grove Playhouse with 35 spots and a 30-by-20-foot outdoor screen. Which, incidentally, is the perfect size for watching
The Big
Lebowski
. (And yes, the Dude abides.)
Two words: carpe diem. Meaning, you should probably snap up tickets today for the grand opening later this month. Then, when the time comes, you'll commandeer a spot in front of the screen and summon over a carhop for some sliders-and-pickled-chips action.
But say you need the entire drive-in to yourself (which... happens). You can rent out the whole thing and watch pretty much anything you want.
Okay, we're drawing the line at
Showgirls
.