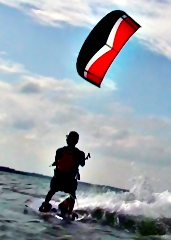 Running around the park with a kite in hand was great.
When you were four.
But things have changed since then.
So, uh, good luck.
Secure your life vest for
Kiteboarding Lessons with Extreme Sports Dallas
, your chance to zip around Lake Ray Hubbard whilst hanging on for dear life to a wind-propelled kite, accepting students now.
It's kind of like wakeboarding meets windsurfing meets parasailing meets... an absence of boats. Which, yes, is exactly why you'll be taking lessons. Those are led by Greg. He's a kiteboarding expert, and he's offering a series of beginner courses to show you the ropes. Listen to Greg.
To get started, you'll want to send an introductory email. Name, skill level, stuff like that. Then you'll fill out some forms and get on the "wind alert" list, which is your ticket to scheduling a training session in optimal conditions. You've probably surmised that a stiff breeze is pretty important to this whole endeavor.
Once your lesson begins, you'll learn important things like setting up your kite, harnessing the wind and cutting through the water like some kind of upright fish. Practice awhile, and you'll eventually be able to catch gusts and attempt some aerial tricks.
Attempt being the key word here.