The Hamptons: great. Memorial Day brunching: splendid. Waterfront party brunching on Memorial Day in the Hamptons: excellent.
Getting there: not so much.
Unless you're boarding a helicopter that'll hurtle you out there like a Jordan Belfort outta hell...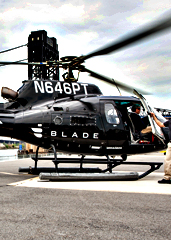 Recalibrate your societal expectations for
Blade
, an on-demand helicopter service to the Hamptons via smartphone app, launching tomorrow.
Here's your step-by-step guide to this beast:
1)
Open the app, and choose a flight time and the number of seats you want. They do a few set flights, but you can also create a custom flight and let the app fill empty seats.
2)
Pay with a card (nope, it's not free).
3)
Pack. Remember sunscreen, champagne and floaties. For hot-tub-circuit laughs.
4)
Look to the skies. If the rain's bad enough to ground the chopper, a Maserati will get you out east instead. You'll make do.
5)
Show up at your launchpad at East 34th Street. Enjoy some preflight wine.
6)
Do one or all of the following during the 35-minute flight:

a) Nap.

b) Bribe the pilot for a turn behind the stick.

c) Behold splendorous Long Island from 1,500 feet above.

d) Point and smile empathetically at the dots of traffic on the LIE.

7)
Get out at Southampton, East Hampton or Montauk and let the rotors blow your hair majestically.
8)
Just hold that a few more seconds...