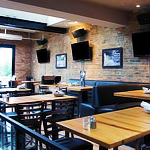 THURSDAY
Like Dessert, with More Beer
What you'll drink: Gentlemen's Club (an Old Fashioned–inspired beer); Vanilla Barrel Aged Brrrbon '13 (a bourbon-inspired beer); Raspberry Russian Imperial Stout '13 (a, um, Russian-inspired beer), all from Portland's Widmer Brothers.
What you'll eat: Crème brûlée, carrot cake, flourless chocolate cake—each paired with one of the beers.
What you'll do: Mixing and matching.