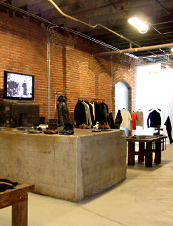 Every closet needs some staples—and the occasional leather-and-paper jacket from a secret store you stumbled upon.
Here to help is the hush-hush
Sartorialoft
, now open in a covert Downtown studio.
In the shadow of the Biscuit Lofts, you'll wander around the side of a nondescript brick building. Walk down the discreet alley, and go in the door marked with the number 103. Inside is a cavernous brick-and-concrete studio, stocked with some edgy, futuristic labels that'll balance your basics with a little in-the-know urban goth—perfect for channeling your inner misunderstood Hollywood artist. (Translation: there's a lot of black.)
We suggest heading right for the leather—one Carol Christian Poell collar expands into a hood like it's an angry cobra, and another somehow fuses the leather with paper to create an impressively crisp, thin jacket that actually makes leather appropriate for LA.
But there are also some deconstructed T-shirts from M.A+, and bags and wallets each made from a single piece of leather. And coming soon are the North American debuts of the Japanese line Individual Sentiments, and footwear from Perugian label Layer-0—so you can walk a mile in prime Italian shoes.
Or you could, if anyone actually walked in this city.