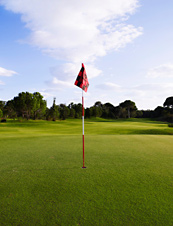 Sometimes you have to ask yourself how well you play with others.  
Maybe you're a team player, or maybe you're a lone wolf who gets angry at the captain every time he tries to assign you a new rookie partner.

Here to help you learn that a little togetherness is good every now and again: Groupon, a site dedicated to bringing you a little gem of crowd-powered economic stimulus every day—just launched yesterday in New York.
 
Think of Groupon as a website where the team takes one for you. Each day the site will feature one deal around the city—maybe, half off some tapas, a couple hours of free sailboat rentals, or some cheap Mets and Yanks tickets. If you like what you see, sign up and patiently wait for others to do the same. If enough geniuses happen to share your particular wants and desires, the deal officially "tips" and you all get to share in the glory of the win.
 
If you were looking to make a few summer plans to stave off any rain-related depression, today's deal is 65 percent off a weekday of golf, mini golf and batting cages at the Randall's Island Golf Center.
 
Call it hooky incentive.