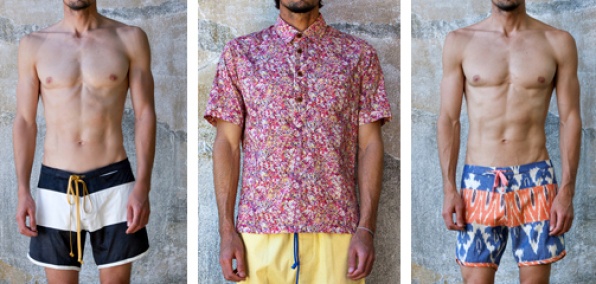 Ah, skinny-dipping. It's the best.

As for the second best...

It might just be donning some trunks from Thaddeus O'Neil, a sexy new line of swimsuits and other wearable sundries from some guy named Ronnie Minkus. Kidding, his name's Thaddeus O'Neil. Anyway, it's online now.

First, meet Mr. O'Neil. He's a surfer, photographer, published poet and designer, and—oh, yeah—he's married to a certified Sports Illustrated swimsuit model. Which pretty much checks all the boxes for "qualified to design stuff you'd wear to the beach."

About that stuff: we're talking the kinds of clothes that should come with some sand, some sun and maybe like a DVD copy of Point Break or something:

—Cannes-worthy ultrasuede board shorts.
—Striped cotton blazers (for semiformal beach bonfires, presumably).
—Brightly colored popover shirts Mick and Keef would've thrown on between recording sessions in Kingston.
—Some regular trunks designed to look better as they fade from saltwater, sun and time.

You still need to wear sunscreen, though.