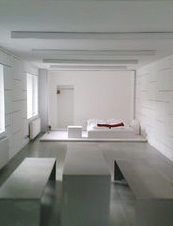 Luxury towers are great, but sometimes you need to break out into new terrain. We'd start by trading the usual straight walls for something with sharper angles, or maybe ditch dry land entirely…
Introducing
The Pixel Hotel
, an Austrian "hotel" in Linz that makes the city your hotel, with rooms fitted into six of the coolest places in the city, which could be anything from an art gallery to a tugboat.
As you might have guessed from the scare quotes, it's less a hotel than a free pass to spend the night in some of the city's best spots. The rooms include a houseboat, a storefront transformed into a streetside garden and an art gallery outfitted with a hexagonal sculpture that lifts your bed ten feet in the air. And rather than dropping you in the tourist district, you'll have your pick of all the neighborhoods in Linz, with a whole city's worth of restaurants at your disposal.
When you're not in the room (or on the boat), we suggest a quick turn through the
Kulturmeile
, a riverside park that serves as the unofficial center of Linz's arts scene. And if, after a few sexually charged dance recitals, you find yourself looking for a place to go home to…
Just invite her up to see your etchings.