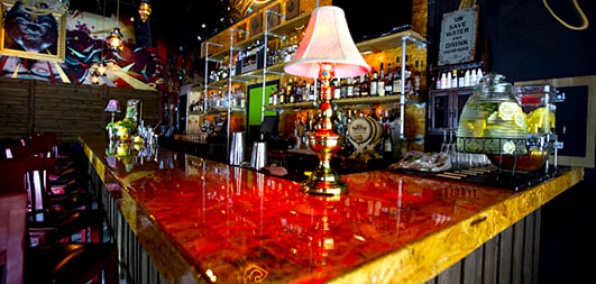 Reinvention is so important.

Exhibit A: Pharrell and his hat.

Exhibit B: All the new retro crazy going on at RedBar...

Time to get reacquainted with RedBar Drink Company, your new go-to for date-night cocktails in a 376% more kitschy-retro environment, now open in Brickell.

You probably remember this place as your basic, everyday Brickell watering hole. Now, well, imagine the Golden Girls teamed up with Rollergirl from Boogie Nights for a garage sale. Think glossy red tables, gaudy vintage lamps, a Grand Prix turntable and a massive street mural involving what appears to be a large gorilla trapped in a gold frame. If you wanted the same vibe as your place, you'd stay home...

So your Monday post-work drink date has outlasted happy hour. You're good on oysters, now you just need a joint with some real character. Bring them here for a BlackBerry Sage Smash (gin, blackberries, ginger beer) and relaxed conversation on floral-print lounge chairs that feel fresh off a porch in Marathon Key. Or opt for the rum-spiked Watermelon Blossom on the crushed blue velvet sofa against the wood-paneled wall.

Wherever you end up getting comfortable, there's no rush. The place is open until 3am. If things proceed to your place...

Your taste in lamps just got recontextualized.