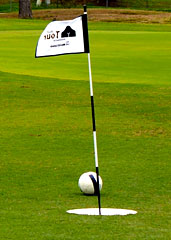 If you're heading to the golf course, you're going to need:
Clubs:
nope
Bag:
negative
Regulation-size-five soccer ball:
absolutely
Take a mulligan for
FootGolf
, a hybrid sport that'll have you kicking soccer balls around a golf course, now operating at Lake Park Golf Club in Lewisville and expanding to Dallas soon.
Used to be, if you started chipping soccer balls onto the 17th green, you were looking at stern reprisals from the marshal. But now, it's a sanctioned sport. Or maybe it's a sanctioned "sport." Either way,
the rules
are basically the same as golf, except strokes are kicks and the hole's a reasonable 21 inches wide.
The dress code (there's a dress code) suggests you don a collared shirt, argyle socks and a driver's cap. So... take that under advisement. Then, just step onto the course, stretch, take a nip from your flask, and try not to slice your drive onto the adjacent fairway.
For now, Lake Park is your home course, but soon you can also start teeing off at Dallas's Keeton Park. So then you can say, "Nah, not
that
FootGolf course. Let's play at the other one."
Next stop, Rio 2016.