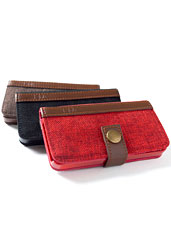 NASA's given you a lot lately.
Mind-blowing Instagrams. Another reason to like Seth MacFarlane. Hubble. Always Hubble. And now, an iPhone case.
Boldly take a small step toward
Salt Cases
, an arsenal of tweed iPhone defenders that use NASA tech to shield your phone from extreme temperatures, available online now.
These guys are from Maine. So it's safe to say they know a thing or two about freezing. And designing dapper, winter-defying objects, apparently. Because they made these. They look like little tweed notebooks. With leather trim and a brass button. All that's good and dapper. But it's not the space science part.
The space science part: every case has something called Saltbloc. It's made from the same material NASA uses to protect spacecraft from intense hot or cold. So when it's hot out, this repels heat from your phone. And when it's cold out, this stores heat to warm your phone.
What this means for you: now you can check your email in industrial freezers. Set
Candy Crush
records from the sauna. Take Instagrams directly into the sun. Preferably with your eyes closed.
And they're also making cases for iPads and laptops.
We hear people use those.