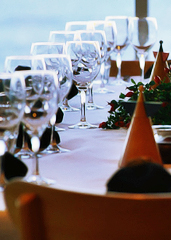 A good rule of thumb for dinner parties: don't discuss politics, religion or the Braves.
A better rule of thumb: do.
But only if you're at
Cities of Purpose
, a new dinner series that's basically an open forum for drinking wine, eating steak and waxing all things Atlanta, taking reservations for dinners now through May.
Here's the premise: you get together with other local people at a private residence or a not-private restaurant (Bocado, Octane, the Lawrence...). You drink. You eat. You talk unceremoniously about the future of Atlanta. Then you say, "This is sort of weird, but I'm into it."
There's a list of dinners currently up on the site. An alfresco potluck in Cabbagetown. A prix fixe dinner at Noni's. Pick one, show up and start swirling some wine around. A moderator will ask you and up to 13 strangers to divulge things. Personal things. Like why you live in Atlanta and where your favorite secret spot in the city is (maybe go with your
second
favorite secret spot).
Eventually, in May, everyone will reconvene at a giant pop-up picnic in an as-yet-undisclosed location.
Pretty sure a supper club where you talk about Atlanta just happened.