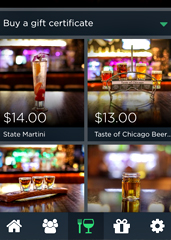 Dear Friend/Colleague/Vaguely Acquainted Business Associate,
This note is to express:
___ Congratulations
___ Sincere condolences
___ Grudging respect
___ Smoldering, long-dormant but recently piqued interest
... on your recent:
___ Promotion
___ IPO
___ Divorce
___ Acquisition of business-appropriate red stiletto heels
Unfortunately, pressing engagements precluded us from meeting up for those:
___ Celebratory pisco sours at Tanta
___ Sorrow-drowning burgers and whiskey shots at Kuma's Corner
___ Beers and angry bumper-grinding at Emporium Arcade Bar
___ Suggestively named cocktails at Hubbard Inn
But good news—we have already arranged to shower you with:
___ Champagne
___ Burgers
___ Fried pickles
___ Arcade tokens
___ All of the above
Don't thank us. Thank
Gratafy
, an app that gives your round-buying prowess a boost, available now in Chicago.
Here's how it works. Download the app (or just use their site). Peruse the various bars and restaurants they're working with. Select what you want to give. A shot of whiskey. A glass of wine. A smoked-brisket platter. Whatever.
After you pay for it (tax and tip, too), just provide your certain someone's contact info. Then they'll receive an email, a text or a Facebook message with a three-digit code, which they'll show to their server to receive the gift. After that, gratitude will be felt, and hosannas will be shouted.
Never underestimate the power of a good smoked-brisket platter.