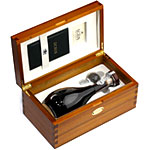 THE OLDEST PORT AT PAPPAS BROS.
1855 Taylor Fladgate Scion Tawny Port
What it is: An incredibly rare, single vintage tawny port recently bottled after spending 155 years in oak casks.
When you'll drink it: After a medium-rare steak dinner and, hopefully, with a company credit card.
Made before: Minnesota became a state.