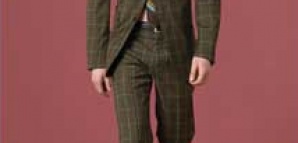 There is something just oddly appealing about a clothing line that pays tribute to its heritage of "suburban luxury."
Especially when you don't have to leave Manhattan to get it.
Original Penguin, the original favorite for your retro Sunday golf polos, has decided to class up its act this fall with the much-awaited launch of its new high-end sportswear line Original Penguin Black Label. The line was created for "masters of leisure," so its smart, well-fitting knits and suits may inspire you to grab some country club drinks and a little croquet (just watch the grass stains).
Tap into your inner suburban-daddy with iconically named threads like the "Mr. Buchanan" cashmere peacoat, the dork-chic "Mr. MacGruder" sweater vest, and the Mr. Rogers-gets-jiggy "Professor" striped zip-up cardigan. There is also an impressive collection of tailored suits in some prep-cool plaids and herringbones, perfect for business casual lunching. Mix it all up with some colorful Italian knit ties (because man cannot live on domestic clothing alone), and you're just one iced tea away from a missus and another golf date with Mort Chesterson.
Although a scotch and soda at
TenJune
should do it just fine, too.