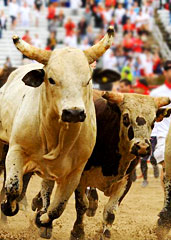 The steaks. The burgers. The brisket. The tacos.
You knew one day the cattle would have their revenge.
Think long and hard about
The Great Bull Run
, your chance to frantically sprint in the opposite direction of stampeding livestock, taking registrations now for April 5 at Texas Motorplex.
There are easier ways to channel Hemingway. (Writing terse sentences on a typewriter while drinking daiquiris, for example.) But that doesn't get the heart racing quite like running from a couple dozen bulls. Which you can soon do in a very Pamplona-esque fashion, if Pamplona were more like the quarter-mile Ennis drag track.
First up, you'll want to register. Yes, there's a waiver, so prepare to assume all fault should you be unceremoniously poked by some pointy horns. Then, when the time comes, you and a few hundred others will spread out along the track. Bulls will be unleashed. They will charge. You will run. You will politely yield the right of way.
And after the race, you'll wind down with some beer. Plus the opportunity to hurl tomatoes at your fellow participants, which is happening later that afternoon via a giant tomato fight.
Maybe don't wear your good bull-running shoes.