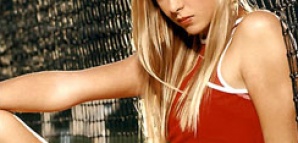 It's U.S. Open time.
Which means it's time to admire our favorite girl in her crisp white skirt trounce the little yellow ball (preferably with a grunt or two)—former #1 player in the world and SI model Maria Sharapova. Unfortunately, a USTA official squashed our more adventurous questions (rules are rules)...but being in the same room as Maria is sometimes just enough
.
UD: Come on, tell us the truth—New York is tougher than most places, isn't it?

MS
: Definitely, because the city is more hectic and, you know, there's going in and out of the city. I think the other Grand Slams are a little more relaxed. This one has a little bit more buzz so your days go a lot faster.
UD: What do you think about New York fans?
MS
: The fans here are more enthusiastic than other crowds that I've seen around the world. And I love that.
UD: Where do you like to let loose in New York?
USTA Official
: [nudge and warning look] Let's stay off those kinds of questions.
UD: Okay. We won't talk specifically about your personal life, probably because we're all in a little bit of denial (about some Roddick character). What kind of guy do you go for?
MS
: Well, my case is a little different because I'm a professional athlete and I travel around the world ten months a year, so, probably one that understands the business that I'm in and, you know, respects it. But also someone that has a good sense of humor and...umm yeah, I'm not too picky.
UD: Not too picky? Sure...so would you prefer something like a little Andre Agassi-Steffi Graf type match-up?
MS
: Probably, yeah. But, I mean, it's not just about that or the sport you play or the movies that you're in, if you're in the same movies. It's about finding a person that you connect with.
UD: Speaking of the king, this is Agassi's last tournament. Got any words for him?
MS
: Well, it's definitely sad to see such a great champion leave. But he's had an amazing and long career, so I'm sure that even though he'll miss it. He has a family to go to every single day. I'm sure he's very happy off the court.
UD: He had this "rebel" thing going during part of his career. Any plans on showing the rebel in you?
MS
: I don't think I was ever a rebel. I hope as the years go on I mature with my game and as a person. I can't sit here and think about how I want to change. I go with the flow of things.
UD: You're Russian. How do you handle your vodka? Know of any secret underground Russian bars in New York?
USTA Official
: She's not going to answer that. [Look as if we will soon be thrown out]
UD: Okay, so back to tennis. This year there's no Venus Williams, no Kim Clijsters. Easy tournament?

MS
: I've got to focus on each and every single round that I play. I can't worry about what top players are here, not here, who I'm gonna face later in the tournament. I've got to worry about my first round and then go on from there.
UD: Okay, and finally...what's the one thing you want to walk away from New York with?
MS
: A win.
Go get 'em, baby.